Day 1 Nairobi - Rift Valley - 175 km / 3h circa + 90 km / 1h30 approximately
Depart for Lake Nakuru in the Rift Valley. Lunch followed by an afternoon game drive. Continue to Lake Naivasha. Dinner and overnight stay at Lake Naivasha Simba Lodge or Lake Naivasha Country Club HB.
Day 2 Rift Valley - Masai Mara - 265 km / 5h approximately
After breakfast continue to the Masai Mara. Lunch and afternoon game drive. Dinner and overnight stay at Mara Simba Lodge or Keekorok lodge FB.
Day 3 Masai Mara
Full day in the Masai Mara with morning and afternoon game drives. Dinner and overnight stay at Mara Simba Lodge or Keekorok lodge FB.

Day 4 Masai Mara - Nairobi - 280 km / 5h30 circa
After breakfast the safari returns to Nairobi.
Prices quoted are per person and are for the specified itinerary and dates

Prices for departures every Wednesday
from 16 december 2014 to 15 december 2015
Prices from US$ 1.020 per person in a double room

Prices for departures every Friday
from 16 december 2014 to 15 december 2015
Prices from US$ 990 per person in a double room

Safaris are guaranteed to operate with a minimum of 2 persons from 16/12/2014 to 31/03/2015 and 01/07/2015 to 31/10/2015 with a minimum of 4 persons from 07/04/2015 to 30/06/2015 and from 01/11/2015 to 15/12/2015. The guarantee to operate is subject to availability of space in the vehicle and in accommodation at the lodges and hotels indicated in the itinerary. The itinerary may operate by reversing the order of the itinerary without changing its quality.

Lake Naivasha Simba lodge (Wednesday departure)
Located 90 minutes away from Nairobi by road, Naivasha has long been the place for those seeking to get away from it all.
The lodge consists of 70 superior guest rooms furnished with wrought iron and mahogany furniture and have a step-down sitting area with television. They are clustered in blocks of 10 rooms, with 6 on the ground flour and 4 on the top.
The middle two rooms on the top floor have interconnecting facilities, making it convenient for those with families. The end rooms on either side of the block also have extra open air showers. The hotel offers Lake Frontage with direct access to private jetty. A sunset cruise by boat will give you breathtaking views and allow you to get closer to the water animals. Fishing is allowed during six months a year and you can catch carp, tilapia and the occasional black bass.
Lake Naivasha Country Club (Friday departure)
From the top of the escarpment of the Great Rift Valley you can see Lake Naivasha sparkling in the sun thousands of feet below. Just an hour drive from Nairobi, Naivasha is one of the gems in a necklace of Rift Valley lakes.
The resort dates back to the 1930s and has since been transformed into a sprawling 55-acre property with a variety of accommodations and guest facilities, including cottages, a swimming pool, and sumptuous gourmet dining. Lake Naivasha is the focus of daily activities. There is fishing for black bass and tilapia, and a boat trip during the day provides a close view of Naivasha's wide variety of birdlife and its hippo colonies.
Mara Simba Lodge (Wednesday departure)
The Mara Simba lodge sits overlooking a dramatic bend on the bank of the Talek, a tributary of the Mara River, gently blending into the surrounding wilderness. The lodge was conceived with an emphasis on exclusivity and comfort. It was designed to complement its surroundings and is decorated in Maasai traditional style. Wide, well-lit pathways connect the Public areas and rooms.
The 84 guest rooms, arranged in clusters of 6 in each natural wood and stone Banda (4 rooms on the ground floor, 2 interconnecting rooms on the first floor) comprise 60 twin rooms, 12 double, 4 double + single and 8 triple rooms.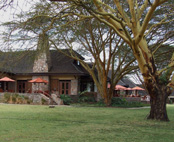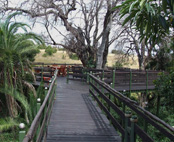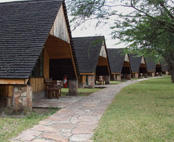 Keekorok Lodge (Friday departure)
Situato nel cuore del meraviglioso parco nazionale del Maasai Mara, il Keekorok, che significa "abbondanza" nella lingua locale, è stato costruito nel 1962 all'interno della riserva, circondato da una zona di sorgenti permanenti e prati verdi.
Over 700 square miles of lush, sun-drenched plains encircle Keekorok Lodge, the oldest property in the Masai Mara Game Reserve in southwest Kenya. The lodge was opened in 1962 and is ideally situated in the direct path of the spectacular animal migration that occurs every year from July to October. Guests can experience unparalleled safari adventures, and morning and evening game drives are a must for anyone visiting the reserve. As your plane lands at the Keekorok airstrip, you will find yourself in the heart of the Maasai Mara National Reserve. You will be picked up in your own 4x4 Land Cruiser at the airstrip and, after passing a family of elephants or a herd of zebras on the short drive to the lodge, Keekorok Lodge will welcome you with open arms.
Lake Nakuru National Park
The park lies in Central Kenya, 140km north-west of Nairobi, in Nakuru district of the Rift Valley Province. The ecosystem comprises of the lake, surrounded by mainly wooded and bushy grasslands. The park supports a wide ecological diversity with Flamingos (Greater and Lesser) and other water birds being the major attractions of the area. The ecosystem provides for about 56 different species of mammals including the white rhino and buffaloes and a variety of terrestrial birds numbering nearly 450 species.
Altitude: 1800 metres
Size: 188 km²
Distance from Nairobi: 160 km
Opening: June 1968
Animals: more than 400 species of birds (water and terrestrial), Flamingo (Greater and Lesser), leopard and rhinoceros (black and white), waterbuck , Colobus monkey.
Major attractions: Unique vegetation: About 550 different plant species including the unique and biggest euphorbia forest in Africa, Picturesque landscape and yellow acacia woodlands.
Masai Mara Game Reserve
Maasai Mara is situated in south-west Kenya and is one of Africa's Greatest Wildlife Reserves. Together with the Serengeti National Park in Tanzania it forms Africa's most diverse, incredible and most spectacular eco-systems and possibly the world's top safari big game viewing eco-system. Made famous by the abundance of the big cats, Lion, Leopard, Cheetah and the Great Wildebeest Migration and the Maasai people, well known for their distinctive custom and dress. There is a wide selection of places to stay in and around the Maasai Mara and the conservancies surrounding it . The conservancies surrounding the Maasai Mara have restricted number of vehicles allowing a more private game viewing of wildlife. The Maasai Mara Ecosystem (see our map) holds one of the highest lion densities in world and this is where over TWO MILLION Wildebeest, Zebra and Thomsons Gazelle migrate annually. Maasai Mara National Reserve stretches 1,510 sq km (580 sq miles) and raises 1,500-2,170 meters above sea level. It hosts over 95 species of mammals and 570 recorded species of birds. With the wildebeest migration in JULY – OCTOBER, this is the best time to see this incredible movement of animals. The Maasai Mara is an all year round destination with the big cats, and all the big game still in the Maasai Mara Ecosystem.
Altitude: between 1.500 to 2.200 metres
Size: 1530 km²
Distanced from Nairobi: 265/310 km
Opening: November 1975
Major attractions: : Theatre of the traditional migration of animals from the Serengeti to Masai Mara. Numerous lions, leopard, cheetah and elephant and the Wildebeeste, topi Thomsons gazelle Traditional Maasai culture. Exceptional scenery from the escarpment overlooking the plains.